Just realised i`ve never posted in this section :O
I bought my trusty GTi in 2002 when it was 3 years old, prior to that it was a BT reps car. It was immacuate with FSH and only 40000 miles.....only problem was it came from the factory without a bodykit
.
It stopped standard for around 3 yrs untill i started to want extra power. I looked at 200sx`s, Scoobies etc but decided to keep the GTi and make it a little faster. I started with the exhaust, filter, then cams........the rest is history.
I set out to make a drivable track car that went well around bends aswell as in a straight line......a few thousand track miles later this is the end result: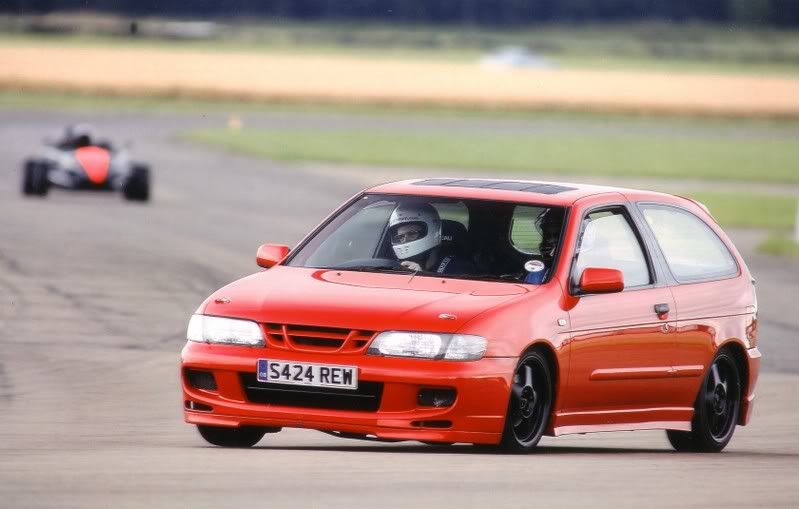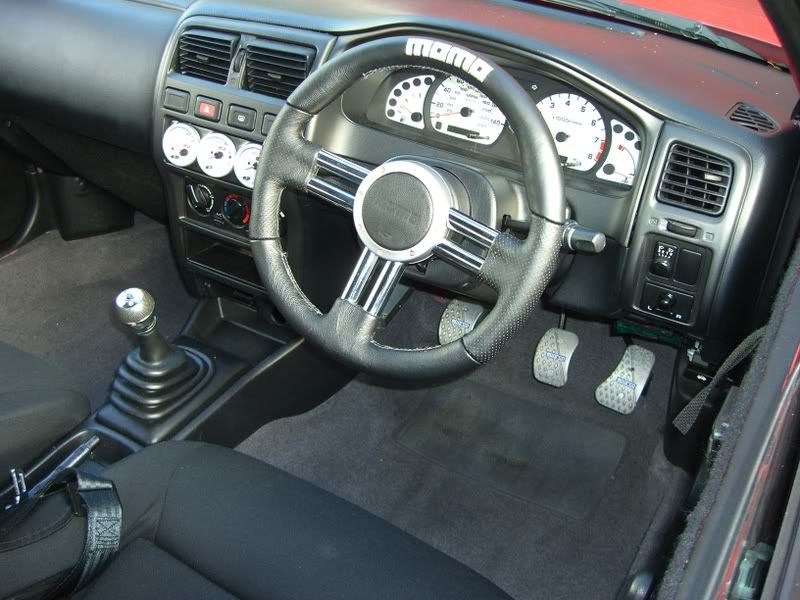 Virtually the whole interior except the dash has been removed. The electric windows are now manual, no central locking, sunroof or A/C! I weighed the car in at 1000kgs. Since then i`ve removed around another 10-20kgs.
Lets start with the
engine mods
:
MIJ 2.25" mandrell catback
Resonated de-cat
Fujitsubo VE header
HKS induction kit with racing filter and custom alloy intake & cold air feed from foglight aperture
JWT S3R cams
Competion Clutch 11lb flywheel and 4 puck racing clutch
Unorthodox Racing underdrive crank pulley
CDF racing alloy alternator pulley
Horsham Developments remapped ECU
Meziere electric water pump
Nismo FPR
300zx fuel filter
Polyurethane engine mounts and solid metal front `dogbone`
Odyssey PC680 lightweight battery
Custom Steel solid shifter bracket
Silkolene Pro S Fully Synthetic 10w-50 engine oil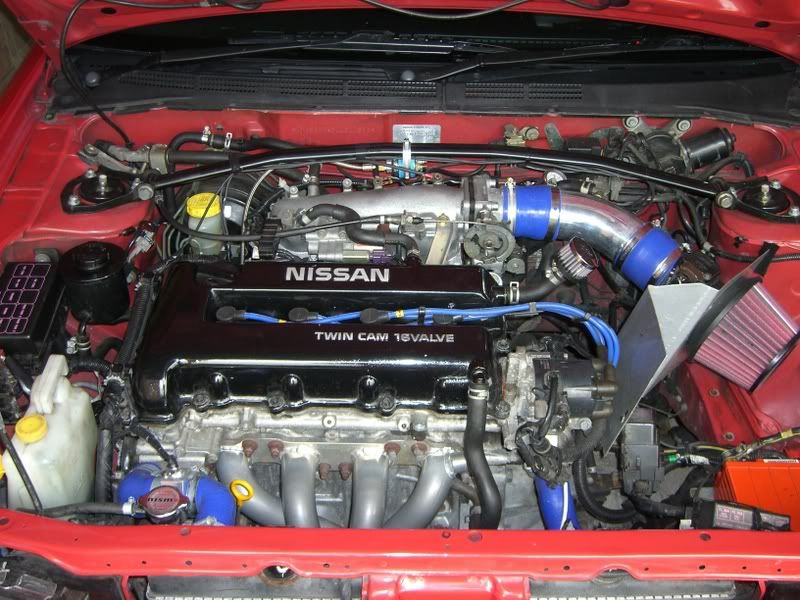 Latest engine pic:
These gave 158.1whp and 141lbs torque ( excluding ECU map & electric WP, i also had a HotShot exhaust manifold then )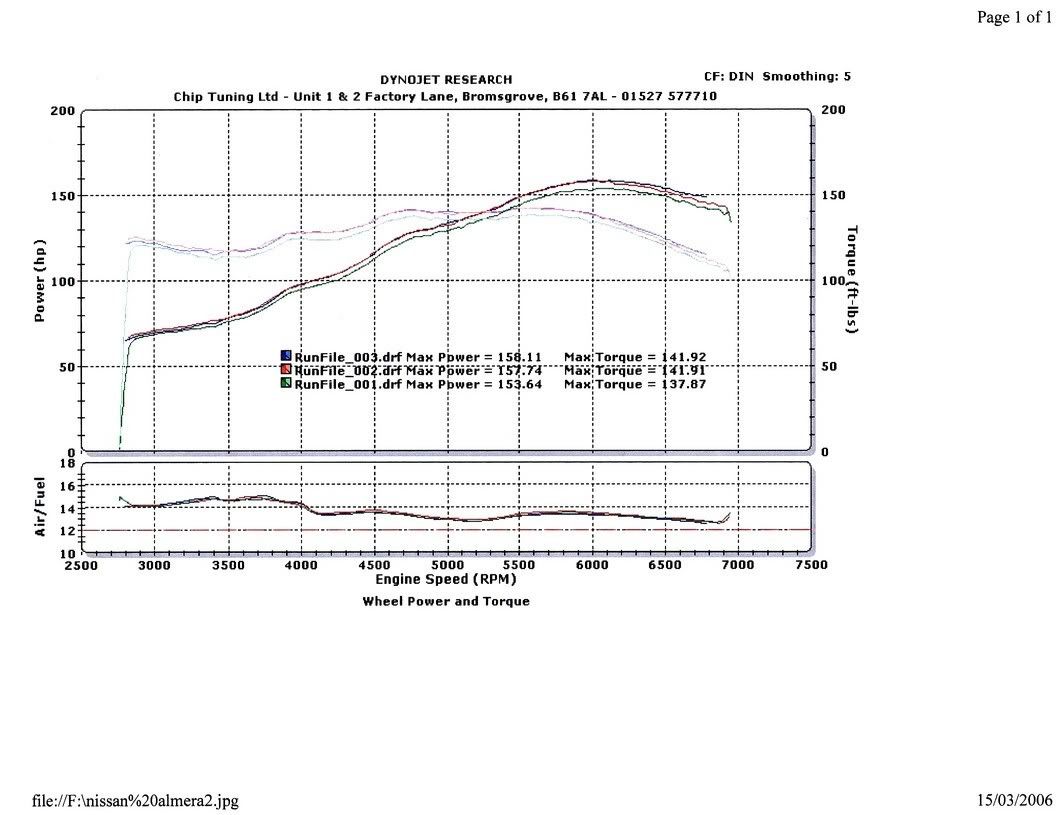 After that i added:
VZR N1 close ratio LSD gearbox with shot peened gears
Enlarged throttle body
Thermoblok Spacers
Ported polished cylinder head
Cometic metal head gasket
ARP head studs
Stiffer valve springs with titanium retainers
( with bigger cams and higher rev limit in mind for the future )
I went down the dyno and got just the same power as before
BUT.....it turned out my exhaust was blowing at the head and downpipe. The stiffer valve springs zapp power as they cause more friction and maybe the LSD gear caused more drag. So i proobably did gain a few ponies.
Suspension mods
BC BR coilovers lowered approx 70mm
Front lower tie bar
Whiteline rear sway bar
B14 rear strut brace
Whiteline alloy front strut brace
Energy Suspension lower arm bushes/anti roll bar bushes/steering rack bushes
Rota Slipstream 16" lightweight alloys
Kumho Ku31 205/40/16 tyres
Full suspension set-up at Centre Gravity, including rear beam bend to zero toe
Brakes
:
Front EBC Yellow Stuff pads
Rear EBC Red Stuff pads
Standard discs/calipers
DOT 5.1 fluid
Exterior
Pretty stanard apart from clear repeaters, VZR grill, factory skirts, rear lip and a painted front valance.
Performance
I imagine 0-60 is under 7 seconds. 0-100 in around 15. power to weight ratio must be close to 200hp per tonne ( a CTR is 156 for example ).
1/4 mile 14.42@95 ( street tyres )
Top speed is 145mph bouncing the rev limiter in 5th :lol:
My latest mods
:
Removed the power steering and adding a Meziere electric water pump. The steering feels great at speed, in an `old school` sort of way. Removing the 2 pullies has also freed up some power.
I`ve also re-routed the coolant lines from the throttle body so it doesn`t have hot coolant heating it up ( and the air that flows through it ).
Horsh Dev` ECU remap.
Future mods
?Carbon fibre bonnet
The N15 is a great base for a track car. You really would be surprised what exotic sport cars i can keep up with. It hasn`t cost a fortune and is always 100% reliable. When other cars have to stop due to fadded brakes and blown turbos i just keep on lapping......i usually just stop for fuel or a coffee!
Weight saving thread:
http://www.almeraownersclub.com/threads/weight-loss-from-gti.10081/
Track pictures:
http://www.almeraownersclub.com/threads/gti-track-photo-s-in-car-cadwell-park-video.12834/
Current spec
:
Roller Rocker DE. 12.3:1 CR
'CatCams' 518s with 298/288 duration 11.6mm lift.
SR16VE Pistons
Eagle rods
ACL Race bearings
Mildly ported head with Ferrea titanium retainers / springs
ARP head studs
64mm throttle body ( Jenvey butterfly ) & port matched plenum with coolant bi-pass
Internally polished inlet manifold
Thermo inlet manifold & TB gaskets
HKS induction kit with race element
Fujitsubo VE header modified to fit DE
2.25" AAS mandrell catback
Decat
UR underdrive crank/water pully / alloy ALT pully.
NISMO AFPR
OE 259cc injectors @ 4.5 bar
NISTUNE ECU with 8200rpm rev cut. Tuned by Greg @ Protuner
VZR N1 LSD gearbox. Shot peened. Cryo treated. Case welded.
11lb 'Competition Clutch' steel flywheel.
4 Puck 'Competition Clutch' racing clutch
192whp, peak power at around 7800rpm.
Thanks for looking
Ian
Last edited: